Kayaking is an excellent summer sport for anyone looking to cool off in ponds, rivers, lakes and elsewhere on the water. While the origin of the water sport is thousands of years old, today's kayaks come with various bells and whistles.
For some, choosing between a regular and an inflatable kayak can be daunting, but understanding your skill level, storage capacity and price points can help you decide which kayak is best for you.
Shop this article: DriftSun Almanor Inflatable Recreational Touring Kayak, Perception Crank 10 Sit-On-Top Pedal Kayak With Adjustable Lawn Chair Seat and Intex Explorer K2 Two-Person Kayak With Aluminum Oars
What to know about kayaks
Use
How you plan to use your kayak may determine which ones work best for you. While inflatable kayaks are suitable for most casual kayaking applications, you'll also want to consider other factors such as how much gear you have, how much storage space you have when it's not in use and where you'll be kayaking.
Kayaking location
Most kayaks are designed for somewhat specific types of bodies of water. While most introductory kayaks are made for use in ponds, lakes and other still bodies of water, high-end kayaks are often designed for faster-flowing rivers. It's essential to choose a kayaking location consistent with your skill level. Those just starting should avoid fast streams, stay close enough to shorelines to swim back if needed, and wear life vests.
Types of kayaks
A wide range of kayaks exist, and inflatable kayaks are just one subset. Recreational kayaks include the majority at the hobbyist level, while those more serious about the sport may choose touring kayaks or hybrid kayaks. Another common distinction is between sit-in kayaks and sit-on-top kayaks. You can also find kayaks designed for fishing, storage, whitewater or sea touring, multiple people and more.
Inflatable kayaks vs. regular kayaks
Size and weight
Size and weight are significant differences between inflatable and regular kayaks. Inflatable kayaks are usually much lighter than traditional kayaks and have a wider base which can provide added stability. Regular kayaks are also bulkier than inflatable kayaks.
Performance
Overall performance for inflatable and regular kayaks is comparable. However, those heading to Class 2 rapids require specific, non-inflatable kayaks designed for tumultuous streams. Others may want longer or shorter overall kayaks, depending on where they'll be kayaking. However, you can find various differently sized kayaks in both inflatable and regular configurations.
Storage and transportation
Because of their small size when deflated, inflatable kayaks make an excellent option for those with limited storage or transportation space. Car drivers require kayak roof racks for transporting their kayaks, while inflatable kayaks can fit into just about any space.
Durability
Inflatable kayaks are usually made with high-grade, durable PVC material. However, hardtop kayaks are more equipped to be durable than inflatable kayaks. Still, those concerned about popping an inflated kayak don't need to worry. Most are made with safety features such as multiple air pockets and multi-layered exteriors.
What you need to buy for inflatable kayaks and regular kayaks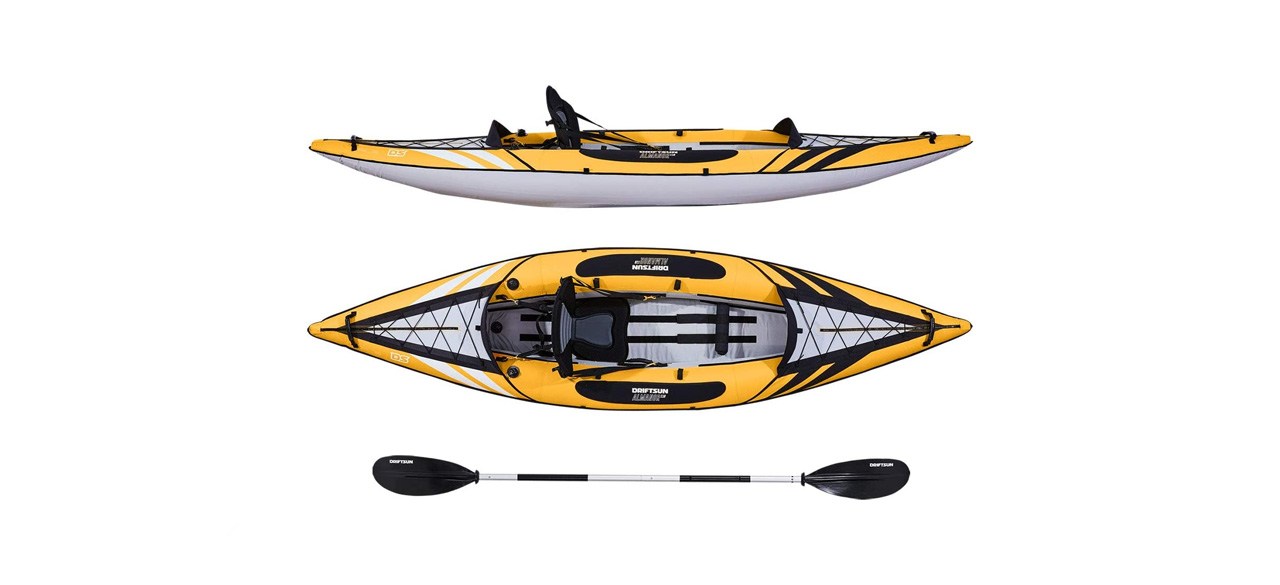 DriftSun Almanor Inflatable Recreational Touring Kayak
This high-end inflatable kayak includes a high-back, EVA padded seat for optimal comfort, as well as up to 300 pounds of maximum capacity. You can buy this inflatable kayak in configurations meant for one person or two people, in either yellow or green.
Sold by Amazon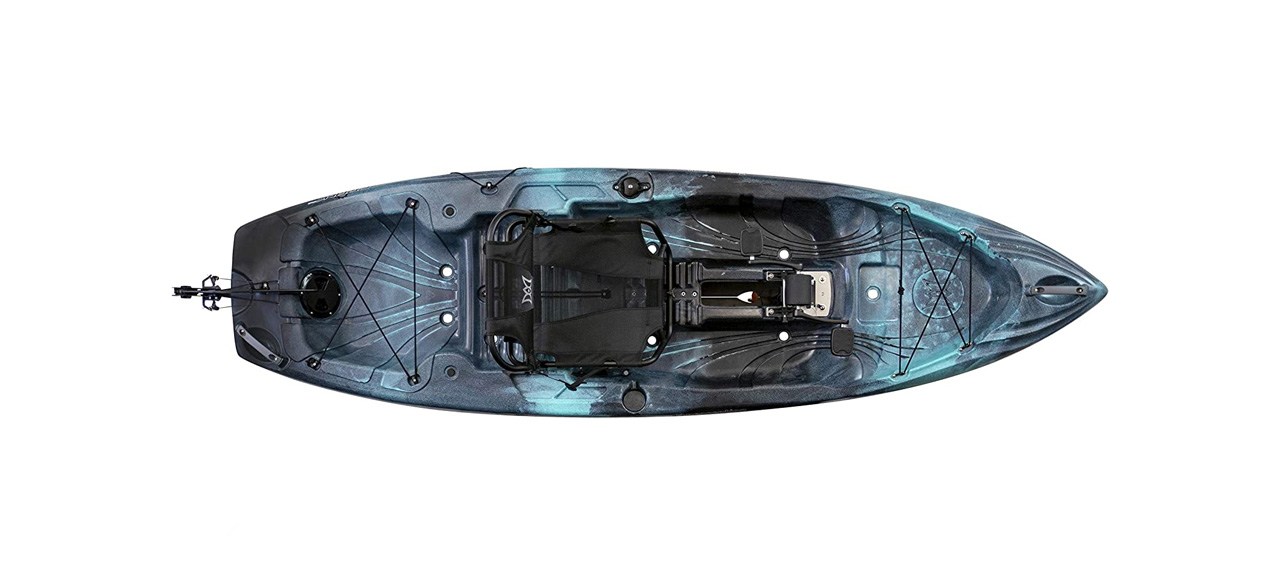 Perception Crank 10 Sit-On-Top Pedal Kayak With Adjustable Lawn Chair Seat
This premium kayak features a comfortable seat and an easy-to-use pedaling system, making the use of a paddle unnecessary or optional. At 10 feet, it's very easy to maneuver and includes two separate storage areas for as much as 350 pounds of gear.
Sold by Amazon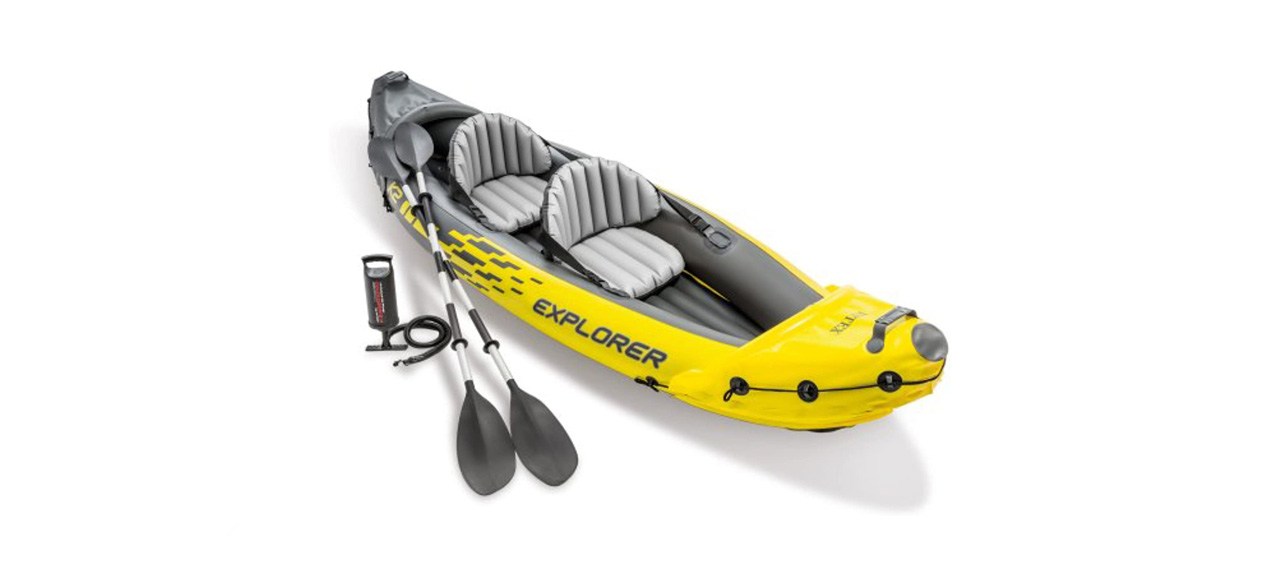 Intex Explorer K2 Two-Person Kayak With Aluminum Oars
This river and lake tandem kayak comes at a low price point, offering space for one to two people and mitigating the need to buy two kayaks to hit the water together. It has an impressive weight capacity of 400 pounds, and the seats come with a comfortable inflated backrest.
Sold by Amazon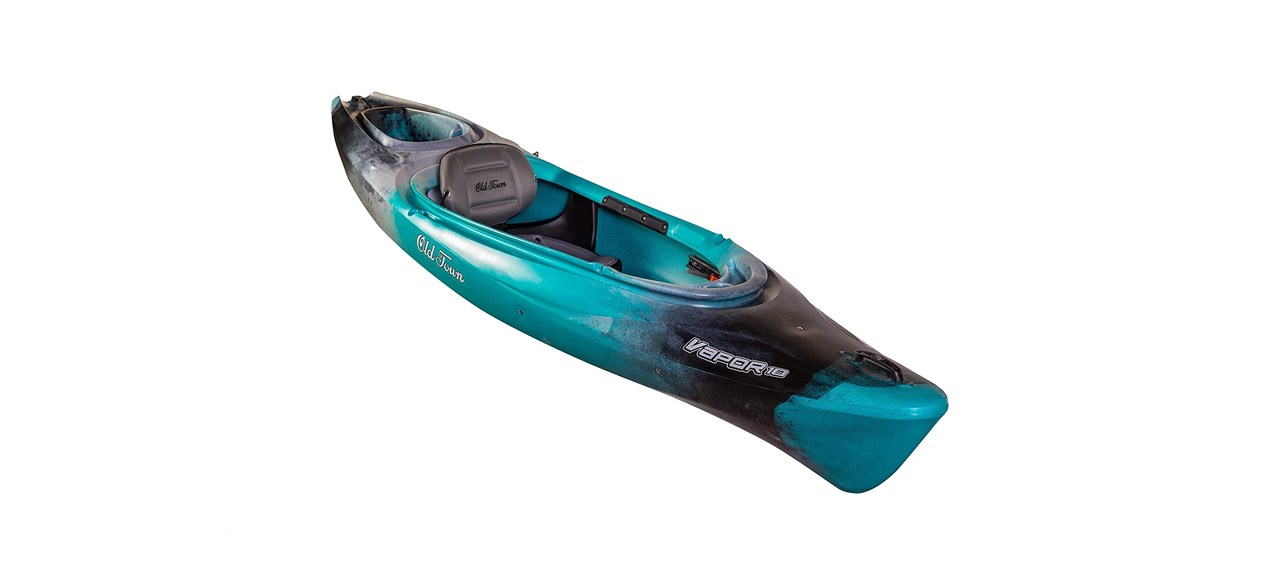 Old Town Vapor 10 Recreational 10-Foot Kayak
This kayak is super affordable and has a spacious cockpit despite being shorter than most kayaks. It also includes adjustable footrests, thigh pads, a cupholder and a gear capacity of up to 325 pounds.
Sold by Amazon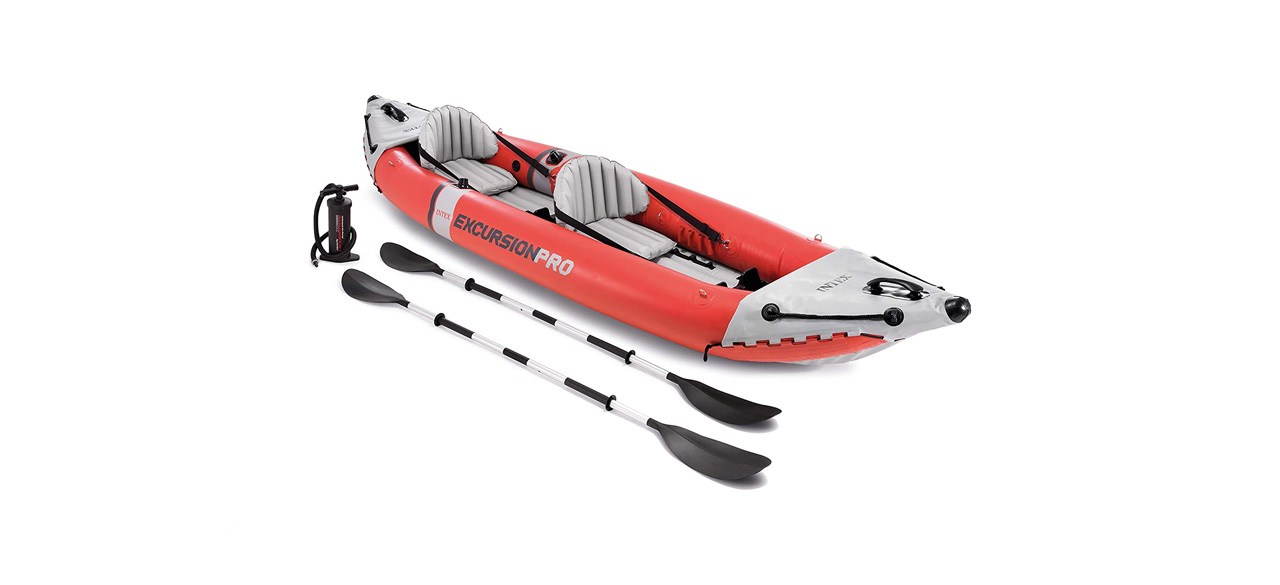 Intex Excursion Pro Two-Person Inflatable Kayak
This is a great kayak pick for those fishing, featuring two fishing rod holders and a mounting bracket for accessories such as fish finders and GPS systems. You can buy this kayak in either two or one-person configurations, both boasting a lightweight and easily storable inflated material.
Sold by Amazon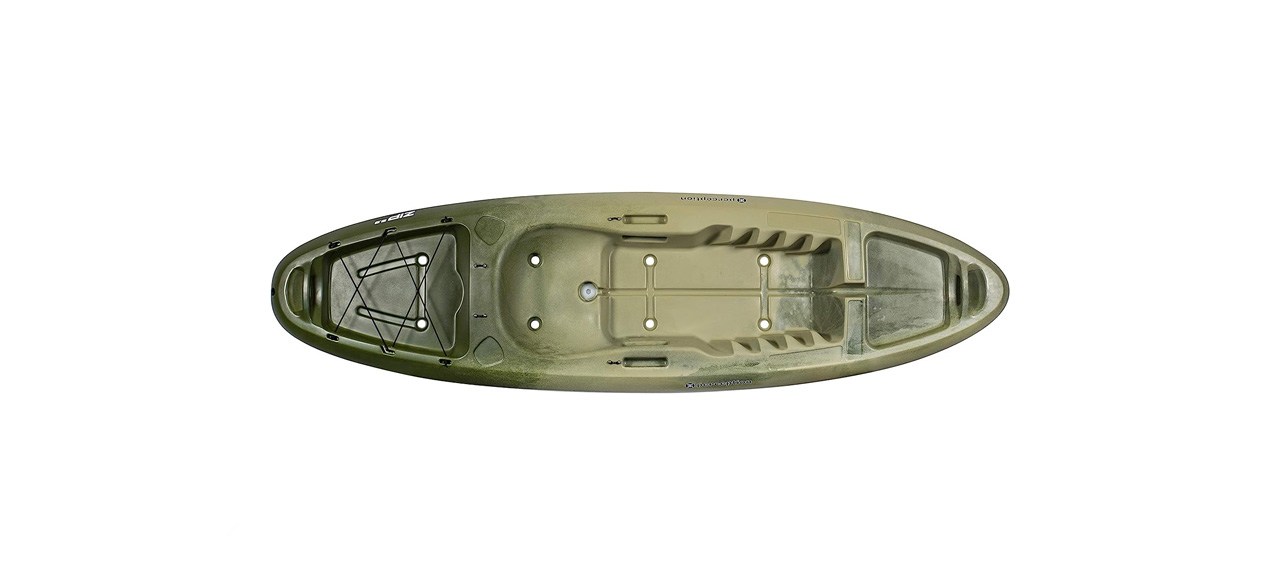 Perception Zip 9.5-Foot Compact Sit-On-Top Kayak
This is a very affordable, basic sit-on-top kayak suitable even for beginners, and it features a small uncovered space for rear storage rated for up to 250 pounds of gear. You can buy this kayak in three separate colors, dubbed classic camo, earth and blaze.
Sold by Amazon
FAQ about inflatable kayaks vs. regular kayaks
Q. Are inflatable kayaks good for fishing?
A. Most inflatable kayaks are considered just as good for fishing as regular kayaks. However, it's worth noting that most inflatable kayaks are only rated for use in smaller bodies of water, so you shouldn't use them for fishing in rougher streams.
Q. Can dogs go in inflatable kayaks?
A. As long as you and your dog don't outweigh a kayak's maximum capacity, they are fine to go in inflatable kayaks. In fact, most inflatable kayaks have wider bases than traditional kayaks, making them more stable. Most inflatable kayaks are also made from a durable material that even tough dogs won't rip through.
Q. Do inflatable kayaks need to be registered or licensed?
A. In most states, you won't need to register inflatable kayaks or any other non-motorized marine inflatables. However, some states, such as Ohio, Delaware and Washington D.C., may require licensure or registration. Additionally, you may need to register large kayaks more than 12 to 13 feet long in some areas. You'll want to check your local laws and regulations.
Want to shop the best products at the best prices? Check out Daily Deals from BestReviews.
Sign up here to receive the BestReviews weekly newsletter for useful advice on new products and noteworthy deals.
Peter McGuthrie writes for BestReviews. BestReviews has helped millions of consumers simplify their purchasing decisions, saving them time and money.
Copyright 2023 BestReviews, a Nexstar company. All rights reserved.