Shopping for the best garage heater for your space
Whether you use your garage to tinker with your vehicle or use power tools for home improvement projects, it can be disappointing to lose your favorite workspace when winter sets in and it becomes too cold to use. To keep your garage comfortable through chilly seasons, you need to invest in the right garage space heater.
Shop this article: Comfort Zone 5000-Watt Heater, Comfort Zone Portable Utility Heater and Stanley Heavy-Duty Space Heater.
Stationary vs. portable garage heaters
The first thing you need to determine when buying a garage heater is whether you want it to be a permanent fixture in your garage or a portable appliance with more flexibility.
Stationary heaters are mounted to the wall or ceiling and offer a more commercial, finished look. They are generally higher in quality than portable ones but require careful installation to ensure safety.
Portable heaters are smaller, more affordable and available in a wider range of configurations. They have handles that let you move them around your garage, store them out of sight when not needed or load them into your vehicle for use on a job site.
Types of garage heaters
Garage heaters have an electric or gas fuel source, and there are a variety of types to consider.
Propane and natural gas heaters provide extreme heat. A gas space heater is ideal for especially large spaces, but good ventilation is required because it creates fumes that can be irritating or harmful to breathe in.
Convection heaters use a fan to blow air over heated coils and distribute it throughout the room. Some convection heaters have oscillation options that help circulate air more effectively. These heaters are great for warming entire spaces without having to worry about flammable gas.
Radiant heaters warm the area in front of them using a heated coil or ceramic element. They don't use a fan, so they won't dry the air out like convection heaters. Because they are not great for heating an entire room, radiant options are best used when you will be spending most of your time in one place, such as at a desk or workbench.
Heater power
For best results, get a space heater for garage spaces that is powerful enough to warm the entire room without using too much fuel or energy.
The power of an electric heater is measured in watts. You can easily determine how many watts you need by multiplying the area of your garage by 10. For example, a 1,000-watt heater should be able to efficiently heat a 100-square-foot room.
Heaters that burn gas have their power measured in British thermal units, or Btu. It's a bit more complicated to calculate how many Btu you need to heat your garage, but most heaters have information on their packaging regarding how large a space they can warm.
Best stationary garage heaters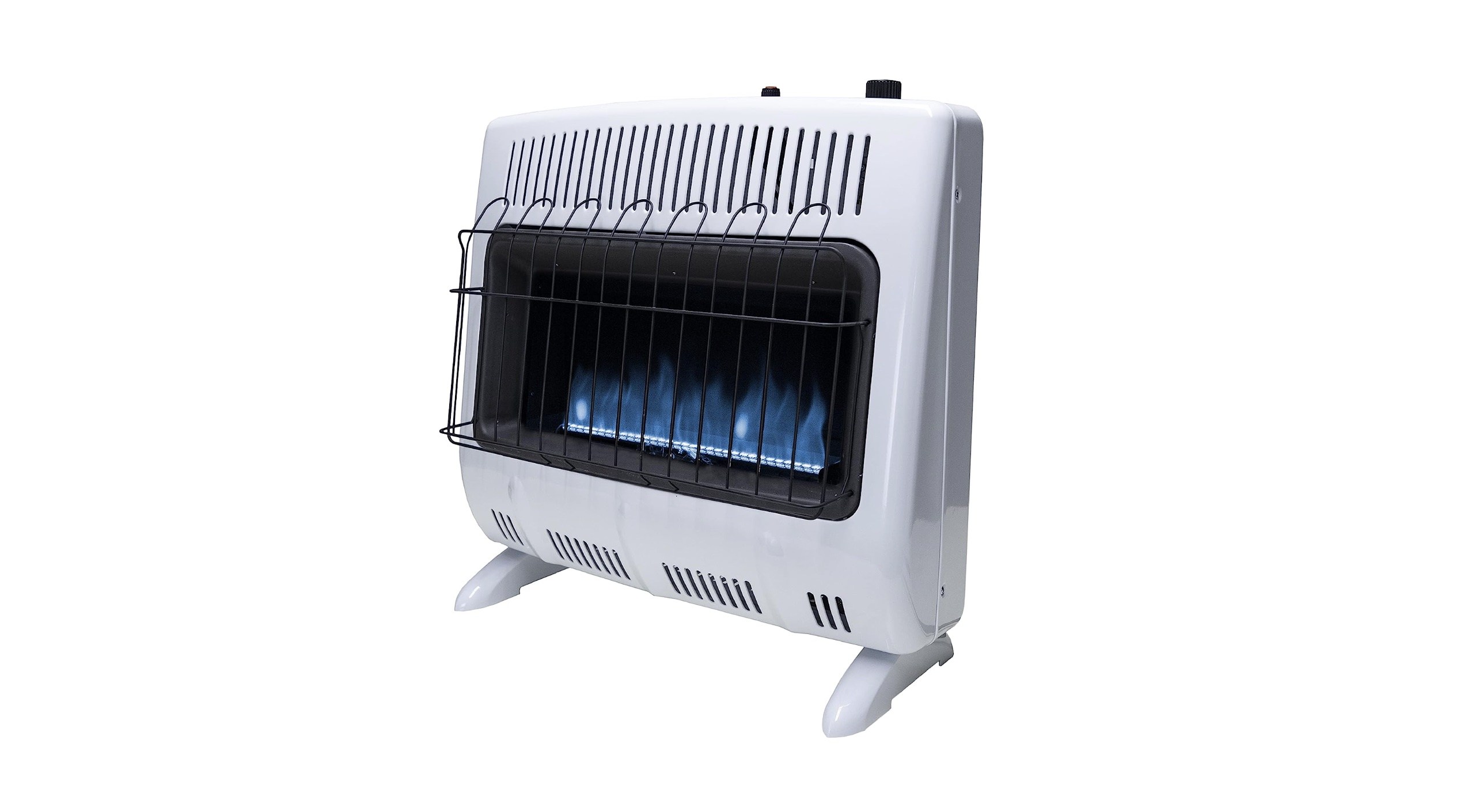 Mr. Heater Blue Flame Natural Gas Heater
This powerful natural gas garage heater is capable of warming up spaces up to 1,000 square feet. It can be installed as a wall-mounted or freestanding unit, with an electronic ignition that makes it easy to fire up. The heater also includes a built-in thermostat, offering more control over heat than other models.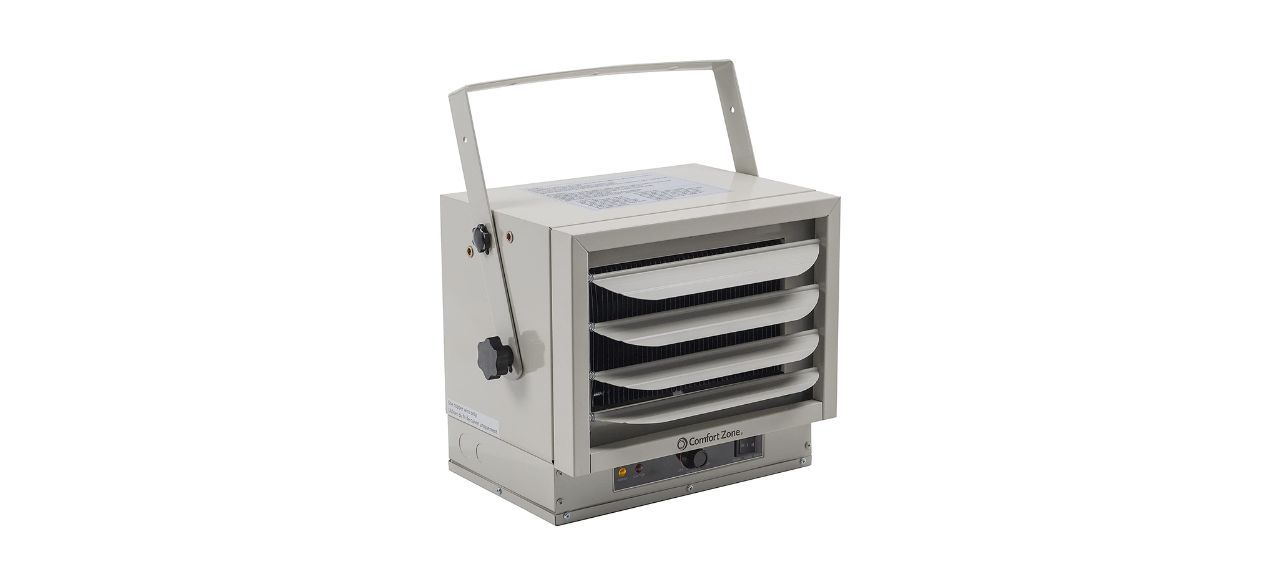 This Comfort Zone space heater mounts to the ceiling to conserve space and includes an adjustable mount and vent fins for pushing warm air right where you need it. You can choose from three heat settings with this indoor space heater, and it features overheating protections and a power-indicating light.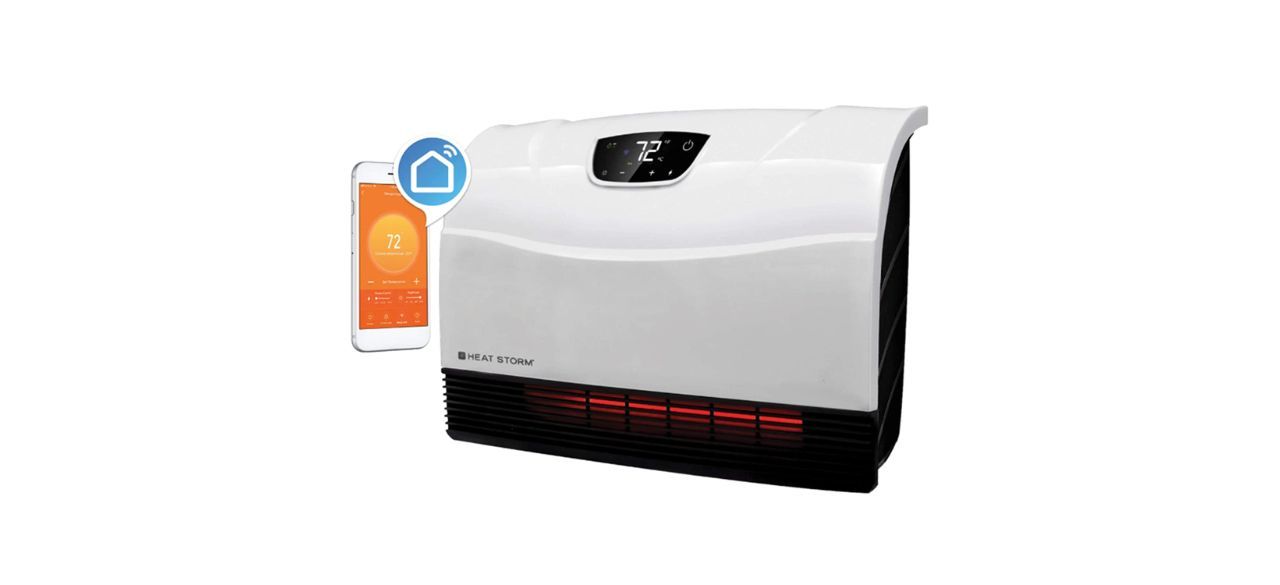 The slim design of this infrared garage heater makes it great for tighter spaces. It can mount directly to the wall, includes a remote control and can also be controlled via Wi-Fi for easy temperature selection.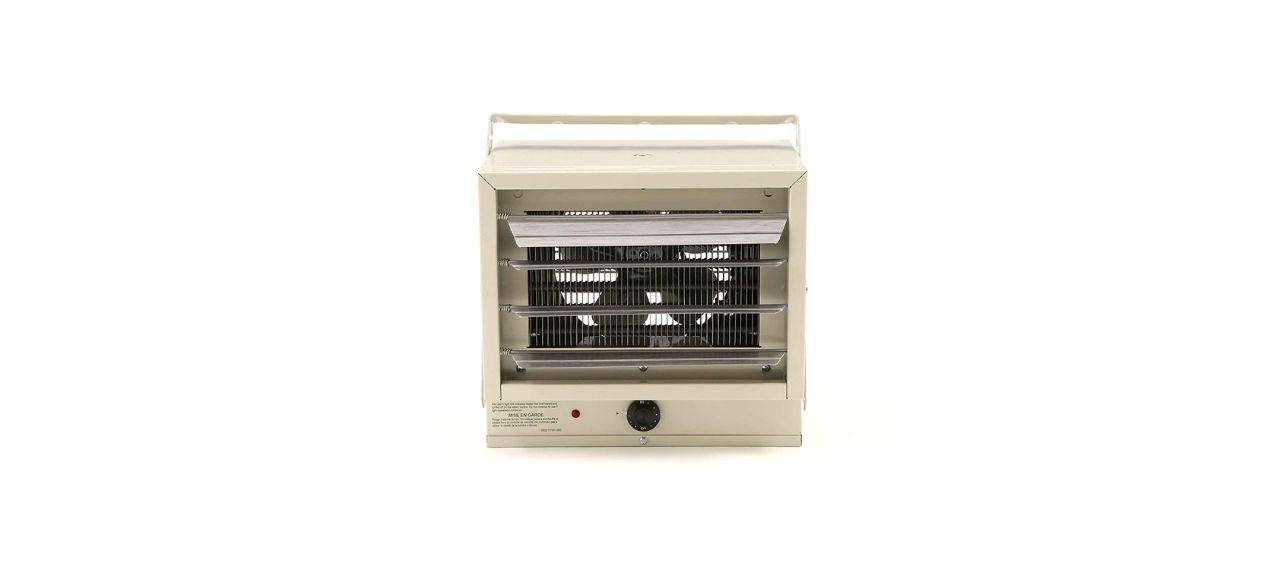 This electric garage heater is smaller than other ceiling-mounted options and has an adjustable thermostat. It features a powerful but quiet fan that pushes warm air across the entire space.
Best portable garage heaters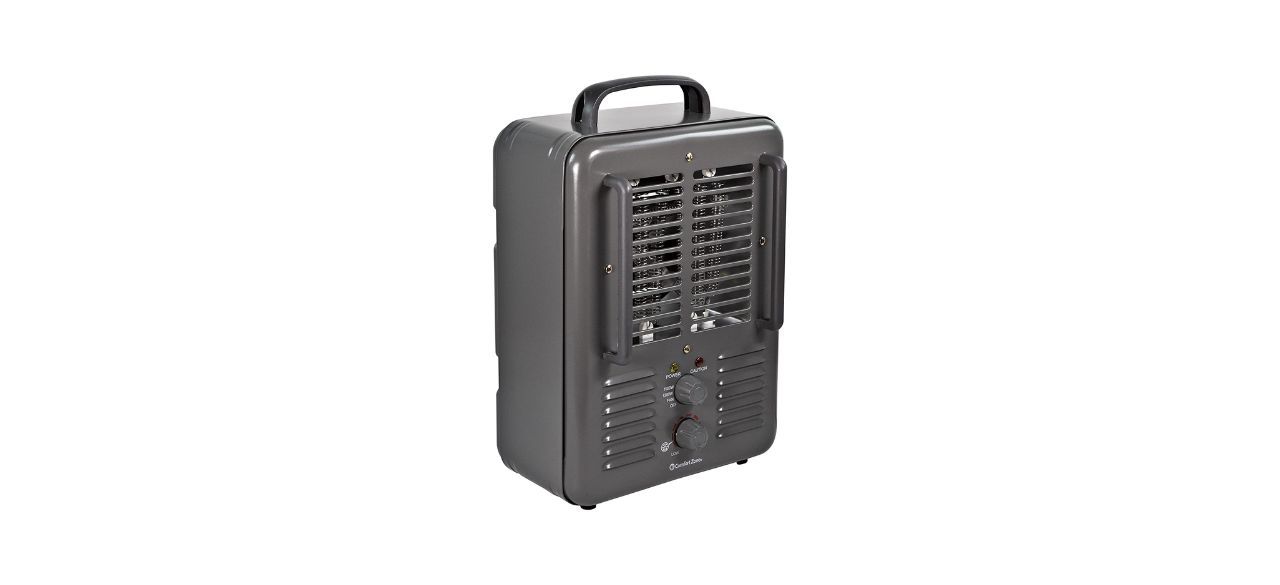 Comfort Zone Portable Utility Heater
This portable heater has a durable metal housing and carrying handle, perfect for withstanding the abuse it may encounter in a busy workspace. The cordless space heater has three heat settings, shuts off if tipped over and features a powerful fan for continuous air circulation.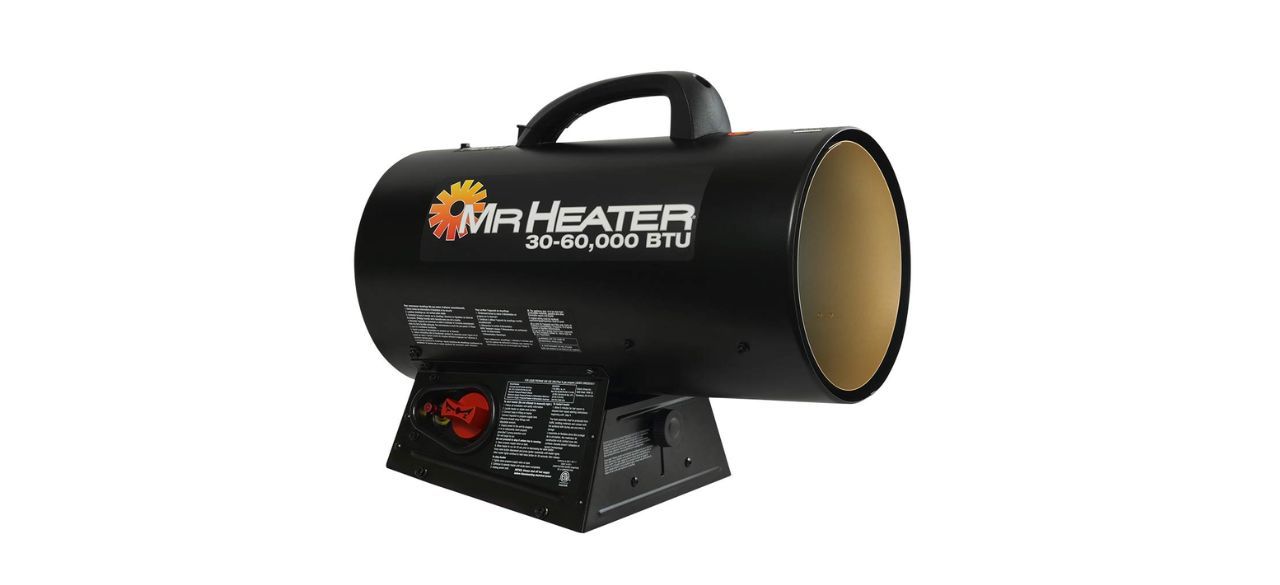 Mr. Heater Portable Propane Forced Air Heater
This propane garage heater connects to a 20-pound propane tank to provide intense heat for up to 14 continuous hours. This propane heater for garage spaces has a single knob to adjust its output and is 50% quieter than competing propane heaters.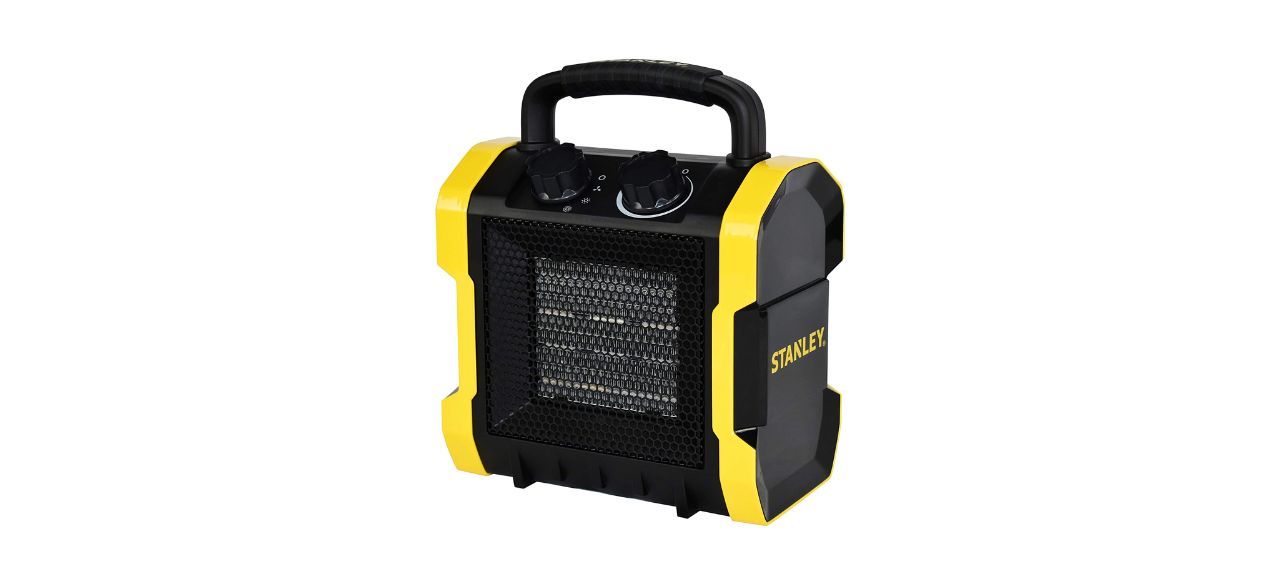 Stanley Heavy-Duty Space Heater
Made with garages and job sites in mind, this heater from Stanley is rugged and dependable. The portable space heater features a rubberized grip, a temperature control dial and the option to turn its heating element off to use it as a fan.
Want to shop the best products at the best prices? Check out Daily Deals from BestReviews.
Sign up here to receive the BestReviews weekly newsletter for useful advice on new products and noteworthy deals.
Derek Walborn writes for BestReviews. BestReviews has helped millions of consumers simplify their purchasing decisions, saving them time and money.
Copyright 2023 BestReviews, a Nexstar company. All rights reserved.