It's easy to underestimate an activity with the name pickleball. However, as the fastest-growing sport in the United States, pickleball is more than a sport with a funny name. It was once an activity played mainly in retirement communities, but people of all ages are developing a love for pickleball. It's also an excellent, low-impact exercise for people of all fitness levels.
Shop this article: Franklin Sports Pickleball Starter Set, Pik'le'Ball Women's Premium Pickleball Bag and K-Swiss Men's Express Light Pickleball Shoe
What is pickleball?
Many think pickleball is a combination of a few other activities, including tennis, Ping-Pong, and badminton. For instance, pickleball is played on a court similar in size to badminton with paddles slightly larger than Ping-Pong paddles. When played, however, pickleball looks like tennis since you hit the ball back and forth over a somewhat shorter tennis net. However, it's played with a plastic Wiffle ball with holes, which doesn't bounce as much as tennis balls.
Pickleball origins
Pickleball was invented by three men, Joel Pritchard, Bill Bell and Barney McCallum, who were searching for a cure to their boredom. They grabbed a few pieces of equipment from their shed, including a perforated ball and table tennis paddles, and headed out to their badminton court. After plenty of trial and error, pickleball was created.
How to play pickleball
Pickleball is a recognized sport, which means it has official rules. They're determined by the USA Pickleball Association (USAPA) and the International Federation of Pickleball (IFP).
Basic pickleball rules
Pickleball can be played as singles or doubles. While the rules are generally the same, there are a few changes from singles to doubles.
A pickleball court measures at least 30 by 60 feet. You can play it indoors or outdoors on a hard surface.
Pickleball serving
You always use an underhand serve.
Service contact on the ball must be made below the waist.
Both the serve and return serve have to bounce before hitting the ball.
The serve starts on the right-hand side.
The server switches sides when they win a point. No players switch sides if the receiving side wins the rally.
The server keeps serving until they lose the rally. If they lose, the opposite side gets to serve.
The server has to keep one foot behind the back line when serving.
The serve must be hit diagonally and must clear the no-volley zone.
Pickleball scoring
Only the serving side can score a point.
A game of pickleball is played to 11 points, and a team must win by 2 points. Tournaments may play to a higher score.
If the ball touches the line, it is considered in. However, if the ball hits the line in the non-volley zone, it is out.
In a singles game, the scoring is called as two numbers. The first number refers to the servers' score, and the second number is the receiver's score.
In a doubles game, the scoring is called as three numbers. The first number is the serving team's score, the second number is the receiving team's score, and the third number refers to the serve number.
Pickleball faults
Faults are moves that cause the loss of a point. A fault is committed when:
The ball hits the net.
The ball is hit out of bounds.
The ball is volleyed while in the no-volley zone.
The ball is volleyed before a bounce on the first serve and first return.
The ball hits a player.
Pickleball non-volley zone
No volleys are allowed in the non-volley zone.
The non-volley zone is the area extending seven feet past the net on both sides for a total non-volley zone of 14 feet. The non-volley zone is referred to as the Kitchen.
A player can be in the non-volley zone, as long as they are not volleying a ball.
Equipment to play pickleball
To properly play pickleball, you will need a court, net, pickleball paddle, a pickleball and appropriate apparel.
Best pickleball paddles
If you plan to play in official pickleball games or tournaments, you need a USAPA-approved paddle. However, beginners and casual pickleball players don't need a regulation-sized paddle. Choose one that's most comfortable.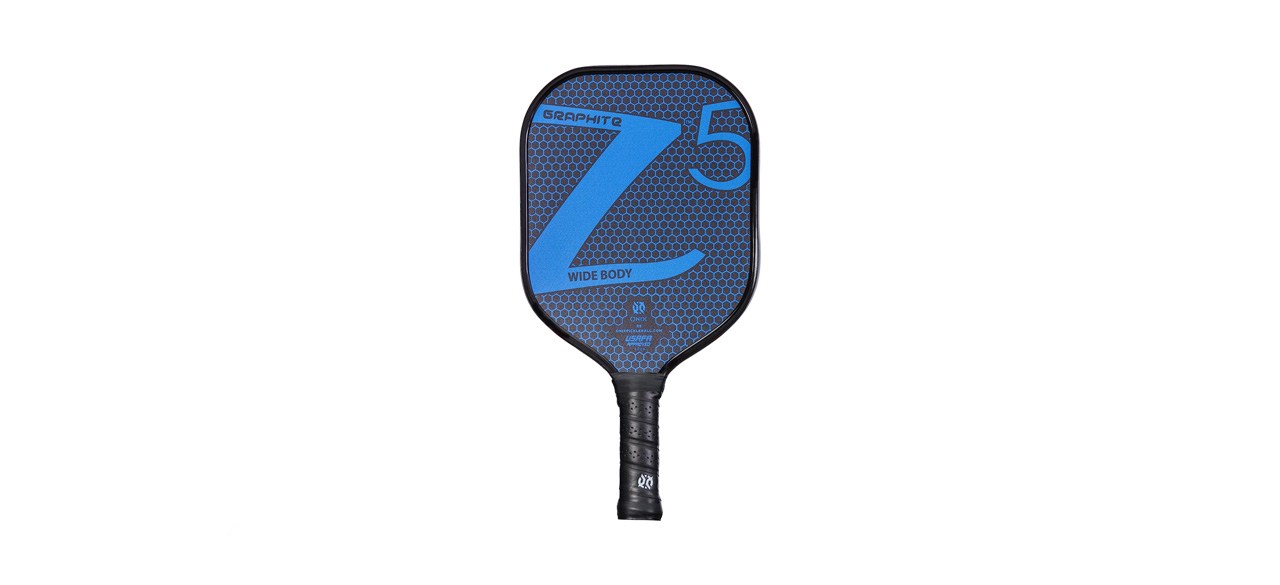 Onix Z5 Graphite Carbon Fiber Pickleball Paddle
With a paper honeycomb core, graphite face, and widebody shape, this paddle has superior ball control. Also, the handle mimics the shape of a tennis racket, giving tennis players a smooth and familiar transition into pickleball.
Sold by Amazon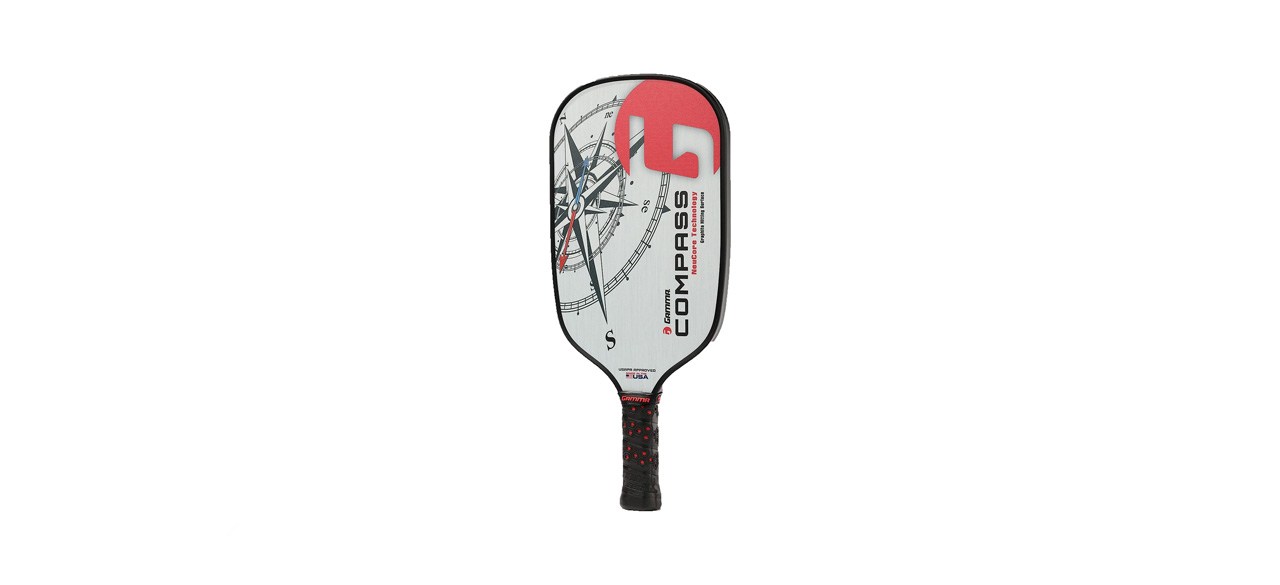 Gamma NeuCore Pickleball Paddle
Since it's USAPA-approved, this paddle is usable casually or in sanctioned pickleball tournaments. It features an elongated face, honeycomb cushioned ergonomic grip, and a 25% thicker core that combine for high-level performance.
Sold by Amazon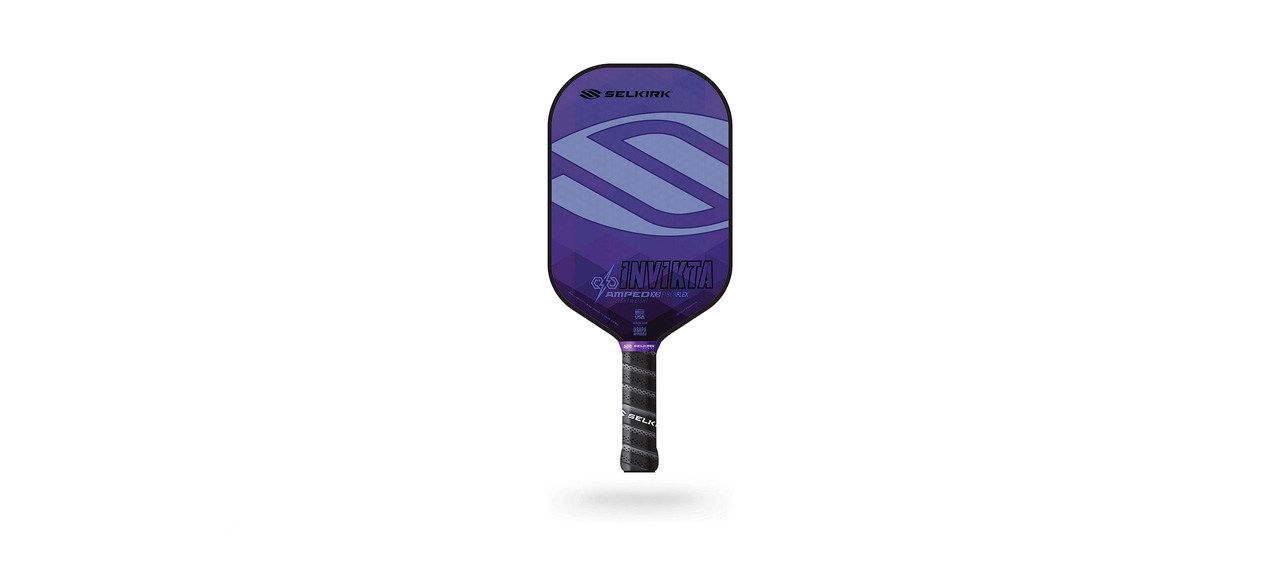 Selkirk Amped Fiberglass Pickleball Paddle
This pickleball paddle combines a state-of-the-art fiberglass face with a thick polypropylene X5 core to provide superior ball cushioning and unmatched ball speed. It's also tested and approved by the USAPA for all pickleball events.
Sold by Amazon
Best pickleballs
Pickleballs are generally designed for either indoor or outdoor play. You'll also need USAPA-approved balls to play in official tournaments.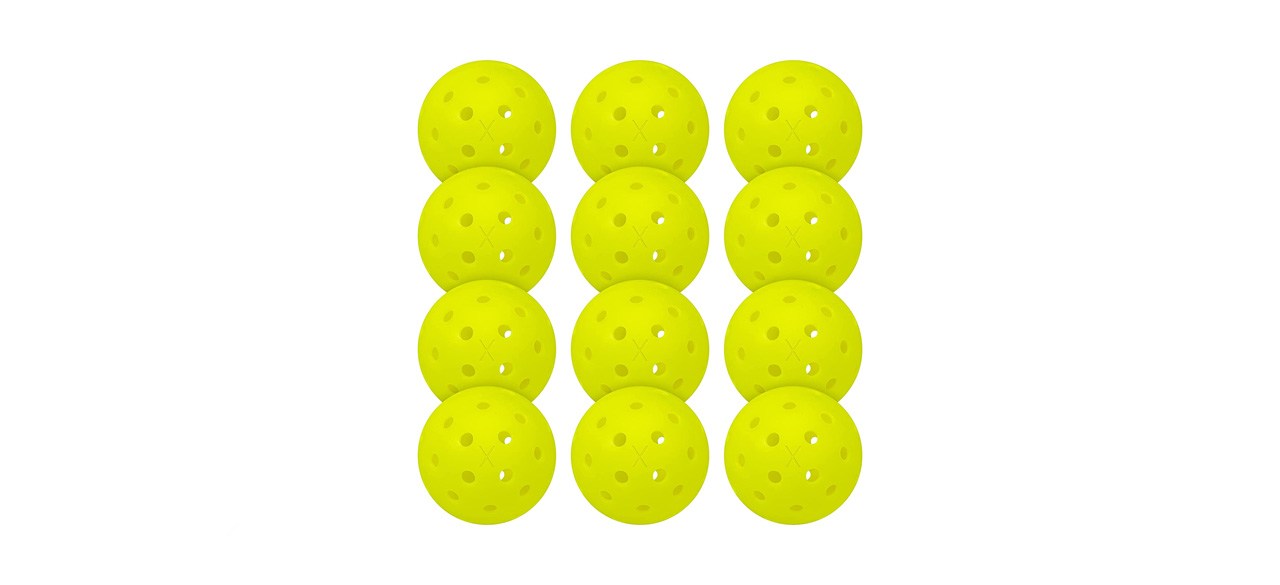 Franklin Sports Outdoor Pickleballs
This pack includes 12 USAPA-approved X-40 outdoor pickleballs. Each ball is built to last on outdoor courts and features 40 precisely drilled holes for a balanced flight pattern.
Sold by Amazon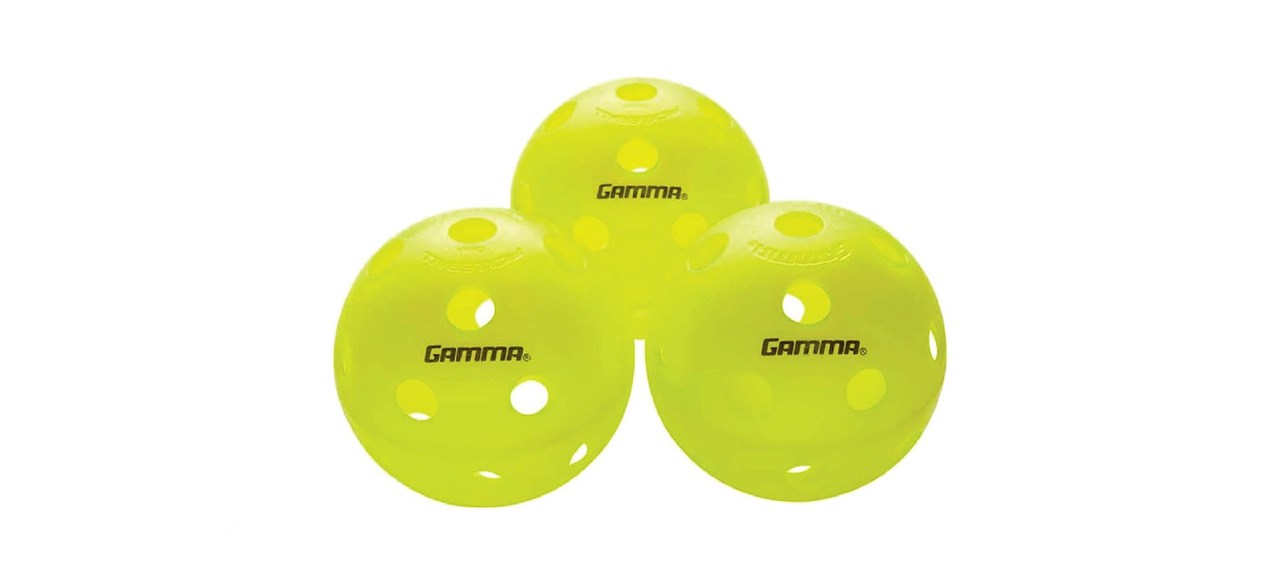 Gamma Photon Indoor Or Outdoor Pickleballs
These pickleballs are USAPA-approved for sanctioned indoor or outdoor tournament play. The optic green ball offers high visibility in all lighting and is expertly balanced with its two-piece construction for consistent play.
Sold by Amazon
Best pickleball nets
A full-court pickleball net is 22 feet wide and 36 inches high. However, many casual players use a half net, which is only 10 feet wide.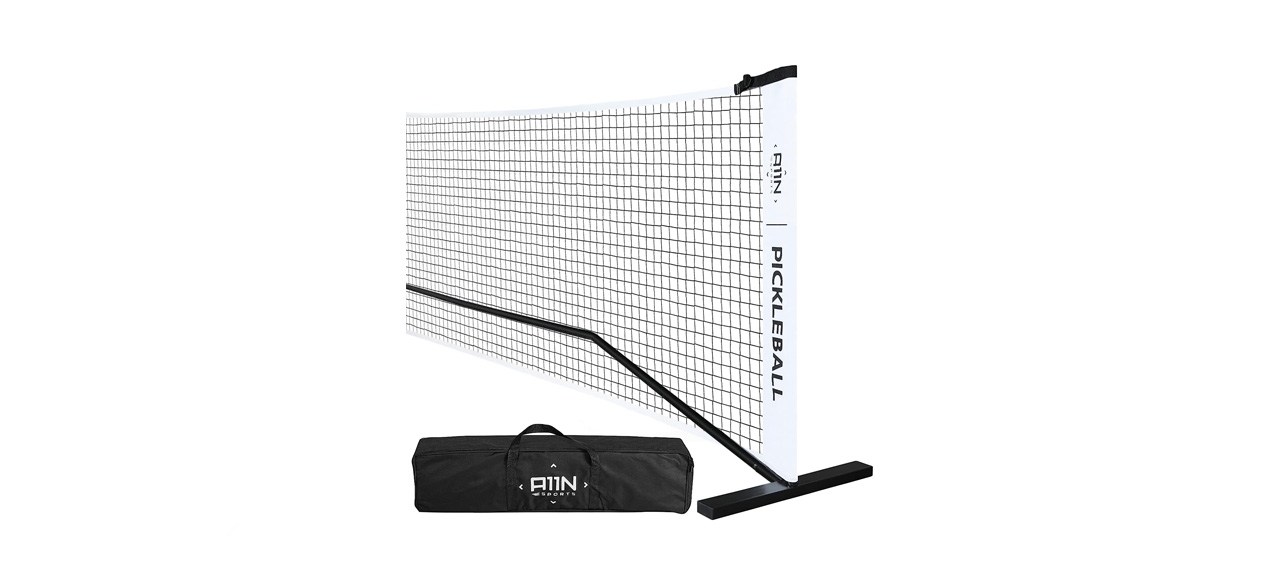 A11N Portable Pickleball Net System
This system withstands any environment and weather. It has a steady metal interlocking frame and high-quality knotless net. The measurements meet official pickleball guidelines, and it comes with a durable carrying bag.
Sold by Amazon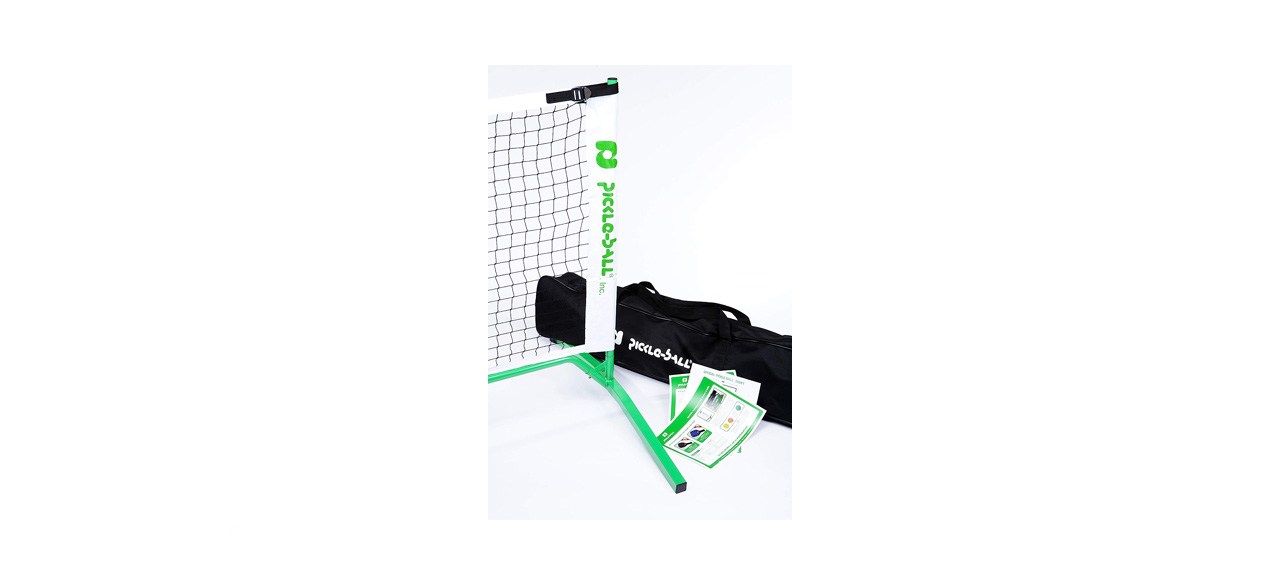 3.0 Portable Pickleball Net System
This portable pickleball net is easy to set up and tear down. The system features a carrying case and snap-together metal frame. It also has wide legs with a bent design that will stay put in windy conditions.
Sold by Amazon
Best pickleball shoes
When choosing pickleball shoes, avoid shoes designed for running. They lack the side-to-side support needed for stability while playing pickleball.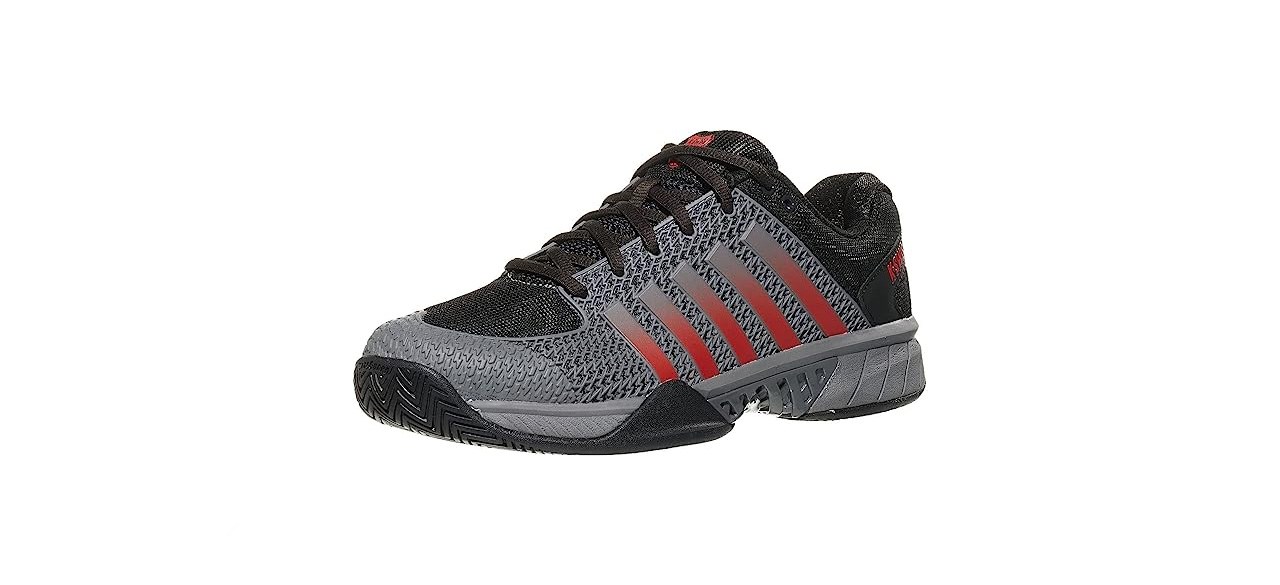 K-Swiss Men's Express Light Pickleball Shoe
These pickleball shoes are lightweight and feature special EVA cushioning and support. They also feature a rubber outsole for complete durability on the court and a drag guard on the outsole to protect against abrasions.
Sold by Amazon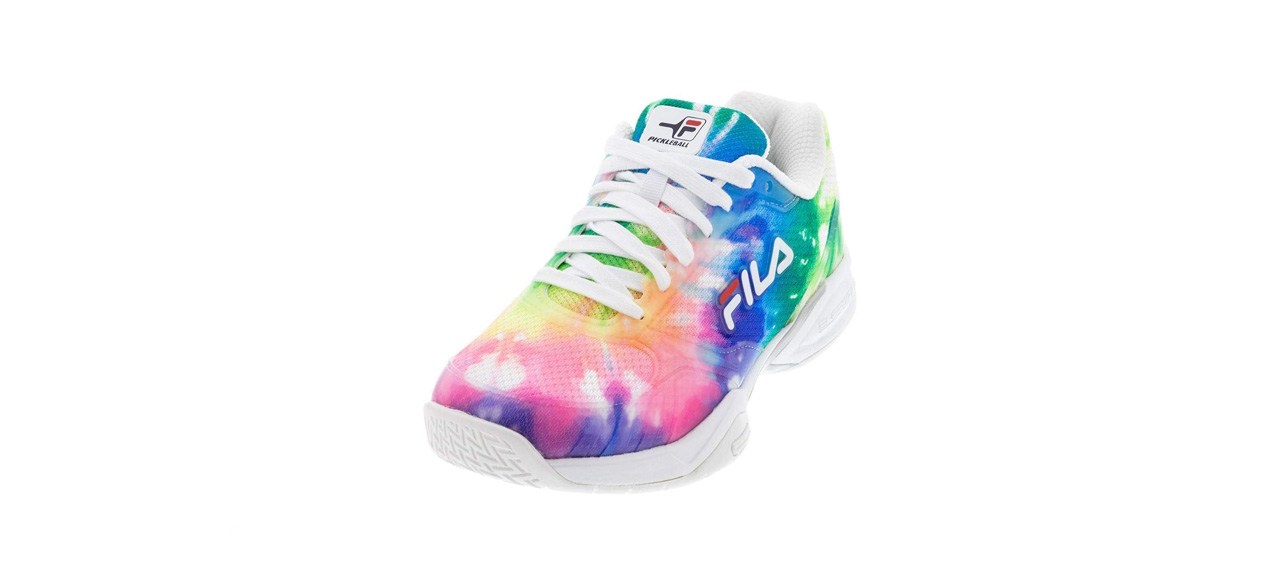 Fila Women's Double Bounce Pickleball Shoes
With a herringbone rubber outsole, these shoes offer optimal traction and durability to support on-court movement. Plus, the energized EVA midsole provides extra cushioning, while the TPU midfoot shank offers stability.
Sold by Amazon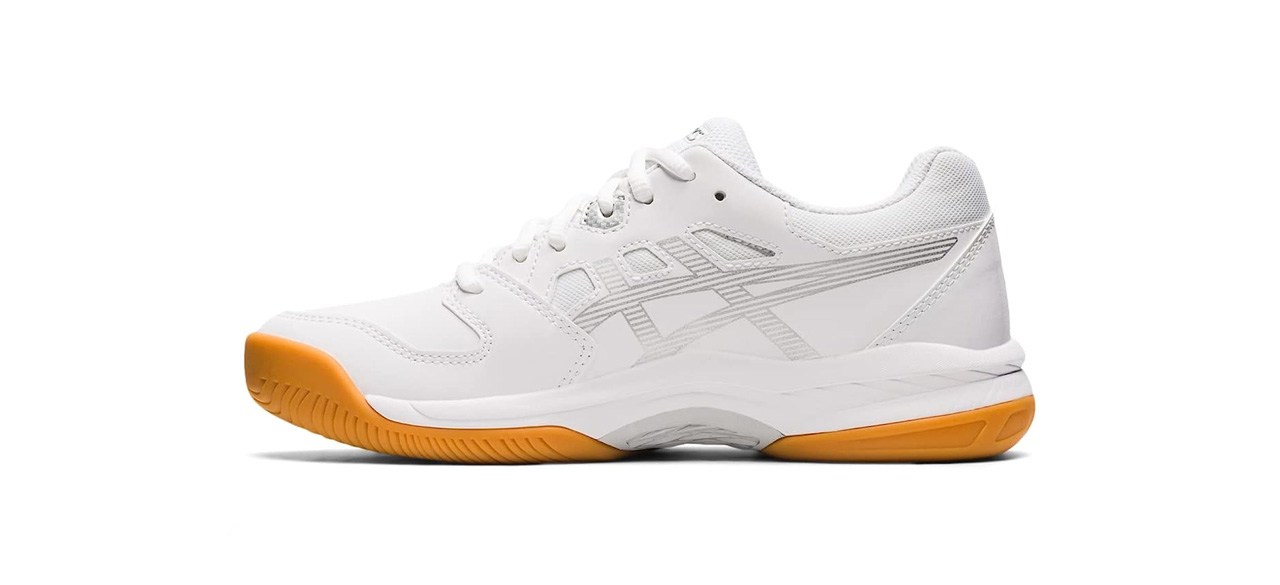 Asics Women's Gel-Renma Pickleball Shoes
From a trusted brand, these shoes use forefoot gel technology for superior impact absorption. This pair also has strategically positioned outsole flex grooves to better accommodate side-to-side movement.
Sold by Amazon
Best pickleball bags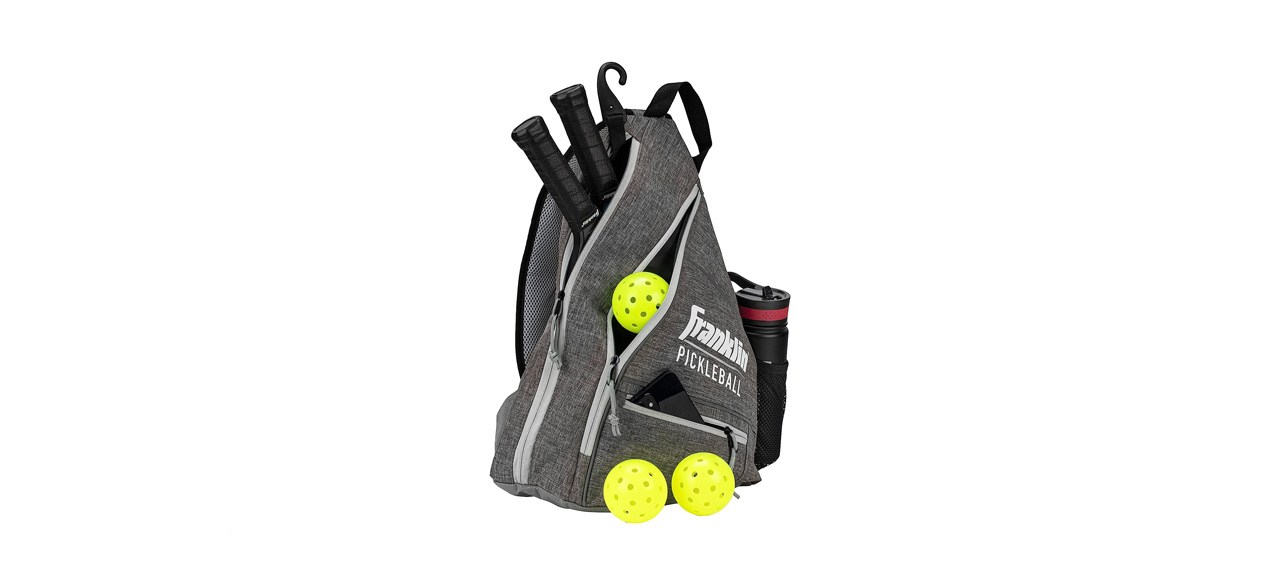 Franklin Sports Pickleball Sling Bag
Get this sling bag if you want to be like the pros, as it's the official bag of the US Open Pickleball Championships. It can hold up to six paddles, pickleballs, and other related accessories.
Sold by Amazon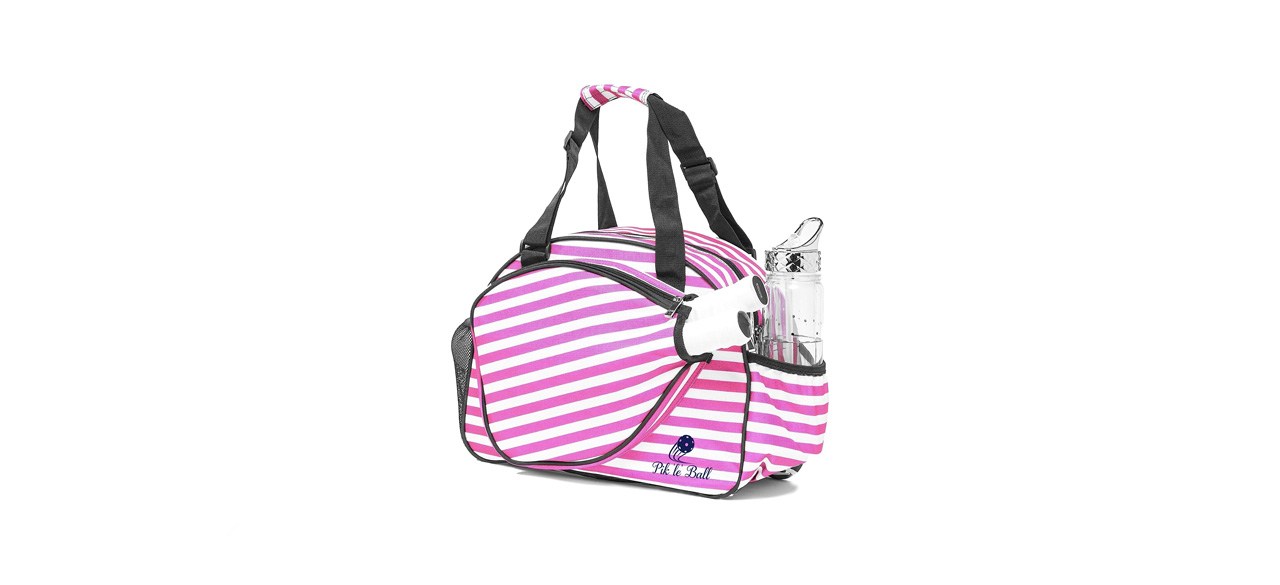 Pik'le'Ball Women's Premium Pickleball Bag
Women looking to travel to their pickleball events in style love this duffle bag with a designated paddle case. It also features a water bottle holder, phone pocket, pickleball pocket, and an additional compartment for other accessories.
Sold by Amazon
Best pickleball sets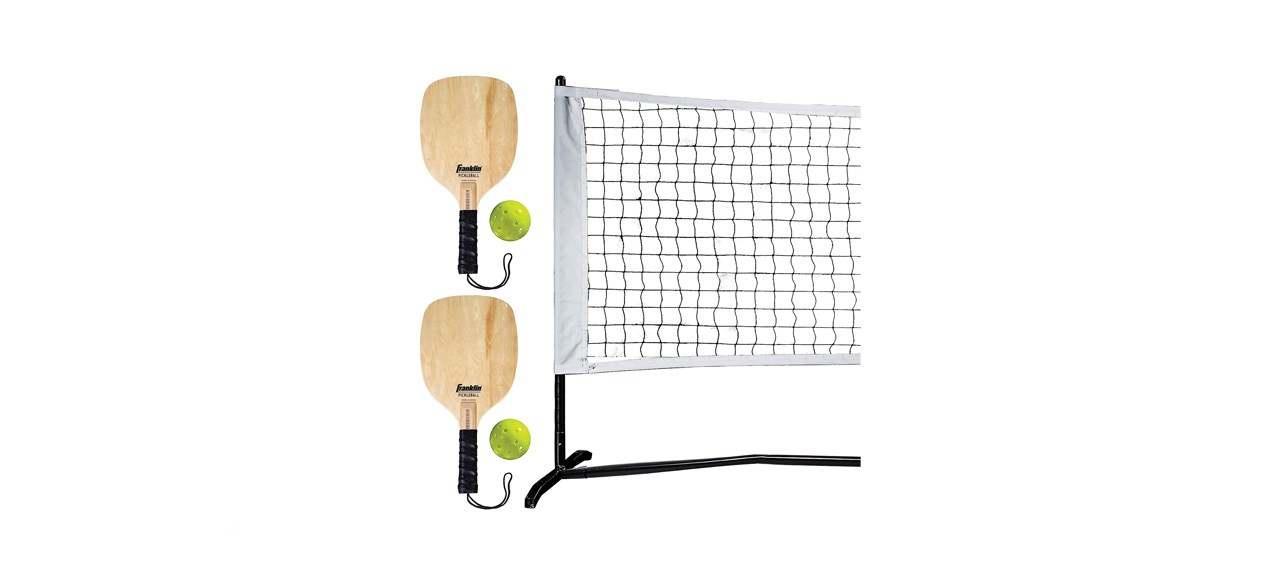 Franklin Sports Pickleball Starter Set
This pickleball set includes a half-court net measuring 10 feet by 3 feet, two USAPA-approved X-40 balls, and two paddles. It's ideal for beginners, training, or casual games at the family picnic and is perfect for travel.
Sold by Amazon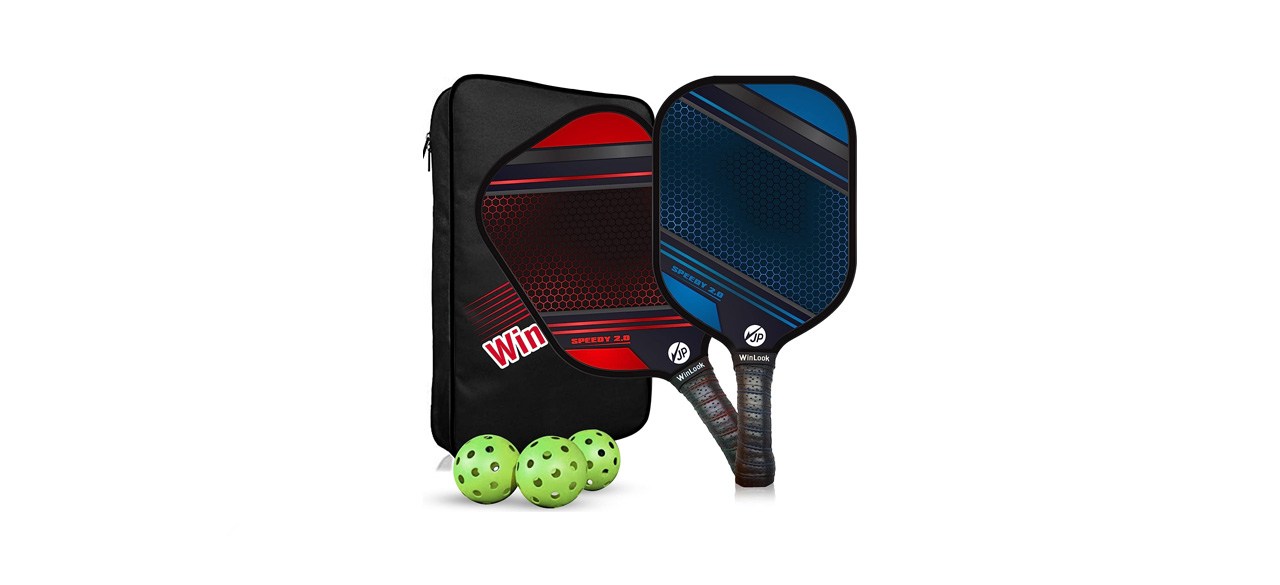 JP Winlook Pickleball Paddles Set
With this set, you receive two pickleball paddles, three balls and a convenient carrying case. The paddles have optimal balance, comfort, and ball control. They also feature a nonslip grip, lightweight honeycomb core, and edge guard protection.
Sold by Amazon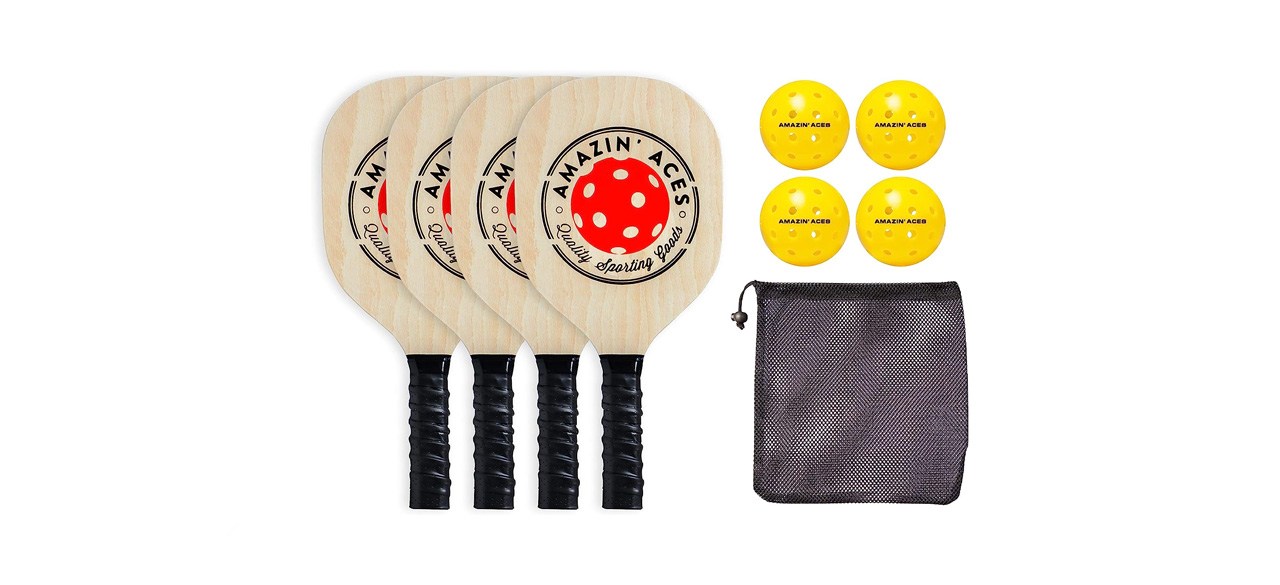 Amazin' Aces Pickleball Wood Four-Paddle Set
This set makes it a breeze to travel with your own pickleball equipment. It comes with four wooden paddles, four balls, and a mesh carrying bag. With a one-year warranty, the company will fix or replace any issues with the seven-ply maple wood paddles.
Sold by Amazon
Want to shop the best products at the best prices? Check out Daily Deals from BestReviews.
Sign up here to receive the BestReviews weekly newsletter for useful advice on new products and noteworthy deals.
Bre Richey writes for BestReviews. BestReviews has helped millions of consumers simplify their purchasing decisions, saving them time and money.
Copyright 2023 BestReviews, a Nexstar company. All rights reserved.